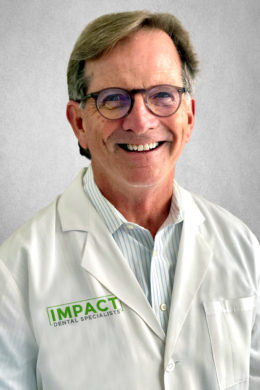 Dr. Stephen Smart, DDS, Oral Surgeon
During college, Dr. Smart married his wife, Michelle, and chose to explore dentistry while she completed nursing school and he completed his ROTC scholarship requirements. This decision brought him 33 years of success in the industry and a profession he fell in love with. He has received several accolades such as past chairman of the Committee on Governance and Leadership Development for the American Hospital Association, a former member of the Arkansas Hospital Association board of directors, and past President of Arkansas Hospital Trustees. He also served as the Medical Center of South Arkansas board chair for 16 years and received the Arkansas Hospital Association Distinguished Service Award in 2010. Dr. Smart is a Diplomat of the American Board of Oral and Maxillofacial Surgery.
When Dr. Smart is not working, he enjoys family time with his wife of 48 years, three children and six grandchildren. He published his first novel, Fixation, in 2017, and enjoys playing music with his high school band. Dr. Smart is proud to serve the community of El Dorado and welcomes you to visit with him at Impact Oral Surgery.