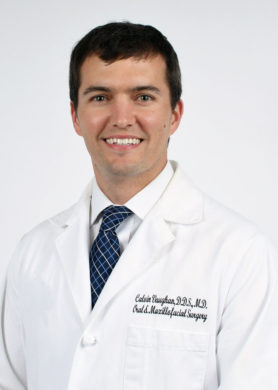 T. Calvin Vaughan, D.D.S., M.D.
Dr. Vaughan started his career in 2020 and has since become board certified as an Oral and Maxillofacial Surgeon. He is a member of the American Dental Association (ADA), the American Student Dental Association (ASDA), and the American Association of Oral and Maxillofacial Surgeons (AAOMS).
Dr. Vaughan was inspired to become an oral surgeon to provide oral and facial surgical treatment, which is often feared or dreaded, in a comfortable manner. He enjoys being able to provide IV sedation to patients to improve their surgical experience and enhance their overall dental health journey.
When Dr. Vaughan isn't saving smiles, you can find him spending time with his family and enjoying the great outdoors while hunting and fishing.